THE CRIMSON CROWN UPDATE
Commanders,
The biggest update since 2018's War Zone launch has arrived! WCRA is proud to present a new Story Mode, new seasonal model, CC13, and new Seasonal Defensive Updates. These arrive through the forthcoming update, read more below for the explosive details! 
---
WHAT'S NEW?
Overview
Added:

Story Mode, a new PvE game mode featuring a unit event track and building event track. Includes a new meta-release schedule. 

Removed:

Monthly feature events.

Note:

Grim Winter will be run each week for the foreseeable future.

Note: Spec Ops will still be available for level 1-89.
Added:

Unit and Equipment upgrade materials are rewarded through a unit event track. Blueprints and equipment marks will only be unlocked at the end of the track.

Added:

Chromium rewarded through building track and is required for key 6.6 defensive upgrades.
Changed:

Max level increased to 100. Level 85 is spread across five levels up to 90.

Added

:

Story Mode requires level 90. Fully upgraded level 85 bases will be 90 after the change.

Added

:

Story Mode this season will require Helicopter unit strategy (and fixed-wing) only. 

Added

:

Heli Story Mode requires Tier 3 through Tier 11 helicopters and Fixed Wing to complete missions.

Added:

Heli Story Mode will take a minimum of four weeks to complete.

Added:

Heli Story Mode follows a difficulty rating of 1/10, 3/10, 5/10, and 10/10 for each of the four weeks, respectively.
Added: 

CC13 & Seasonal Defensive Update. Includes 17 upgrades and a new countermeasures turret.
Added:

Crusader & Savaran Heavy Vehicles in 6.6. In 6.7, the Cataphract will be introduced through Building Story Mode.

Changed:

Tech is now per-unit instead of per equipment or weapon. (I.E. a single Griffin Tech instead of multiple types like Weapon Tech, Armor Tech, etc.)
Added:

Practice Mode for base defense.
Added:

New Strike for Elite and Legendary Subscribers.
Story Mode
Hunt for the Crimson Crown and see how the story unfolds beginning Tuesday, June 7th, when the Helicopter Story Mode begins for those with level 90 bases. Hundreds of maps are being refreshed to give a fresh experience every day, including styles like Ambush and Boss Battles. 
Miss using your older units? Dust them off—you'll need Helicopters from Tier 3 to Tier 11 to fully complete this season's unit event track and building event track. Only fully upgraded bases may participate and we encourage those who are building up to the current maximum of level 85 to use current level-up rewards, weekend building discounts, and special weekend events leading up to this release.
Beat all of the maps each day to earn the upcoming Crusader and Savaran, then in July complete the building event track to earn Chromium, a new resource, as well as the Cataphract. All rewards are unlocked through crates granted at the end of each mission so no time is needed to claim prizes in an event store.
Event Cadence
Monthly feature events will be retired, moving away from a monthly event model where a single map provides the most points. Two new PvE mission tracks are introduced: a unit event track starting June 7th and a building event track starting July 5th. Each track is scheduled for eight total weeks and five maps may be completed each day, with every fifth map using a 24-hour cooldown before the next five are available. 
This means as many as 35 maps may be completed every week. Difficulty increases each 35 maps beginning at a difficulty rating of 1/10. Save your Oil up for the last maps, these have a difficulty rating of 10/10. 
While each track is available for eight weeks, they may be completed in as few as four weeks if all maps are completed daily once each cooldown has ended. Those with subscriptions receive a cooldown reduction, yielding 50% less cooldown for those with Legendary subscriptions, resulting in each track taking only two-weeks. A new Strike will also be included in Elite and Legendary subscription bonus crates that will help with the most difficult maps if you get stuck.
Start early to ensure you have enough time to complete all missions. If you start the missions but do not complete them in the allotted time, your progress will be reset. Unit blueprints, weapons, and equipment are granted at the end of the event track. If you miss this, you'll need to wait until a future update when these are made available once more.
New Units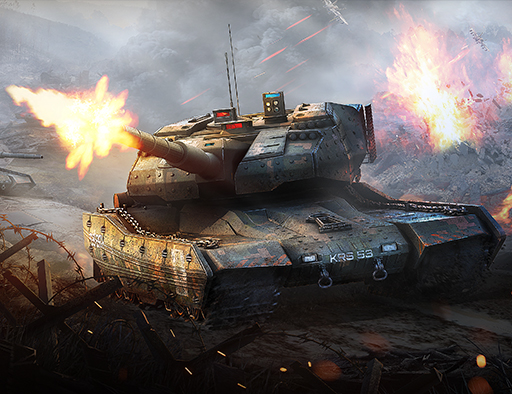 *The Crusader
Story Mode begins with two brand new units: the Crusader and Savaran! Spearhead attacks using the Crusader and leave bases in ashes as its massive secondary flamethrower weapon makes short work of buildings—all while soaking up damage to provide cover for your platoon. Follow up quickly with the Savaran to stun Helicopters and demolish Fixed Wing Aircraft while at the same time its countermeasures provide point defense that allows your platoon to withstand the attack.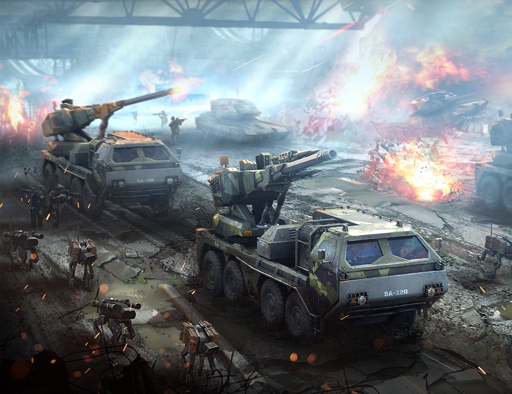 *The Savaran
Round out your Heavy Vehicle platoon using the Cataphract's extremely long artillery support which features brand new Corrosive Damage Over Time. Excelling in offensive capabilities, its secondary weapon options include the SparrowHack Rockets and Sarissae MK-II, allowing you to specialize it as an even greater threat to enemy bases and ground units.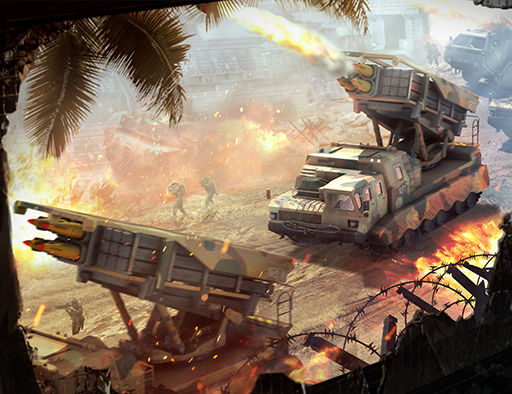 *The Cataphract
Complete the unit track in 6.6 to earn the Crusader and Savaran, then once the 6.7 update arrives, the Cataphract will be included in the building track. In the future, all new units will be included in the unit track. Just like current releases, early adopters may pick up the Crusader, Savaran, and equipment instantly through the Army UI for gold when 6.6 is released. The Cataphract and its equipment will similarly be available through the 6.7 update.
New Resources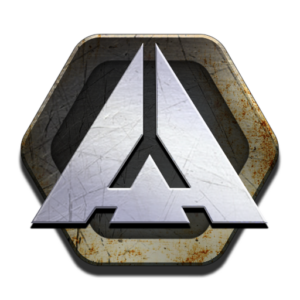 *Chromium 
Two new types of resources are being introduced through the update. Chromium will be required for CC13 base building upgrades (in addition to Metal and Thorium) and is granted through the building event track beginning July 5th. Early adopters of the defensive update may purchase Chromium through limited-time offers and item bundles. Please note Chromium will have a maximum capacity for how much can be held at once.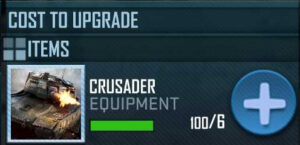 *Crusader Equipment
The second type of new resource is equipment tech for individual units, replacing the current six types for upgrading unit equipment. In this update, Crusader Tech will be required for all of the Crusader's Weapon and Equipment upgrades, Savaran Tech will be required for the Savaran's Weapon and Equipment upgrades, then in the 6.7 update the Cataphract will require Cataphract Tech.
CC13 and Seasonal Defensive Update
Command Center 13 has arrived and includes a seasonal defensive update. All defenses for this vehicle season will be released through this update, which includes 17 upgrades and a new countermeasures turret. 
Command Center 13
War Factory 15
Barracks 13
Defense Platform 17
Heavy Platform 12
Flak Turret 12
Heavy Flak Turret 8
Transformer 13
Heavy Transformer 8
Barrier 17
Sentry Turret 1
Watchmen Turret 3
Machine Gun Turret 15
Heavy Vehicle FOB 13
Alpha, Bravo, & Charlie Platoon 17
War Factory Defensive Platoon 13
Barracks Defender Platoon 13
Command Center 13 requires a level 90 base, which will require all base buildings to be upgraded. Stay tuned for the defensive update briefing for the full details!
Level Expansion and XP Rebalance
Due to the concentration of power at the endgame, level 85 will be spread across five new levels, up to level 90. Level 90 is required to participate in Story Mode and those with fully upgraded defenses can expect to be at level 90 after the update.
Additionally, the maximum base level will be increased to level 100. To achieve level 100, all buildings in the 6.6 update will need to be upgraded. In August once the next Story Mode season begins, level 100 will be required to play.
Practice Mode
Practice mode for base defense allows you to refine your defensive mastery by providing a method to test attacks against your base for a small amount of oil. Watch closely while you send your own platoons against your base to see what type of strategies may work the best with the current defensive layout. No repairs are needed! Simply tap your Command Center in your base view and see the new "Practice" icon. Tap the "Practice" icon, confirm with Ruby that you want to proceed, and practice attacking your own base!
Summary
Fully upgraded level 85 bases will be level 90 after the update. Only level 90 bases may participate in Story Mode, which requires Tier 3 to Tier 11 Helicopters and Fixed-Wing to complete. The unit track begins June 7th. Beat five maps each day to earn all the materials for the new Crusader and Savaran Heavy Vehicles (except resources). Weapon and Unit tech is now per unit (I.E. Crusader Tech instead of Weapon Tech, etc.). There's a 24-Hour cooldown after the fifth map and subscribers have up to 50% less cooldown. Eight weeks are available to complete the track and difficulty increases as you progress. A new strike for Elite and Legendary subscribers may help if you get stuck. Early adopters may use gold to acquire the Crusader, Savaran, and CC13 when 6.6 is released. Similarly, Chromium required for certain key defensive structures released in 6.6 may be purchased through limited-time offers and item bundles. The building track begins on July 5th and includes the Cataphract and Chromium, the new resource required for many CC13 defenses. 
---
We hope you're just as excited as we are for this massive update! Let us know your thoughts on our official discord server at https://wcra.io/discord!