AMBUSH BRIEFING
Survive wave after wave of enemy units with one platoon and no building support as your mercenary force is ambushed while protecting the Black Market Caravan. If you survive, you can loot equipment tech from destroyed enemy forces. Be careful, War Commander, these rogue assaults are no joke. 
---
OVERVIEW
Earn Equipment Tech in the new Ambush event three times a day, every day, for an hour each event. Ambush will begin after the 5.8 client invalidation, tentatively on September 23rd. 
Once Ambush is available, all you'll need to do in order to participate is simply navigate to the Event Portal, select a map, deploy your units, and survive the invasion!
DAILY SCHEDULE
6am – 7am pst
2pm – 3pm pst
10pm – 11pm pst
HOW TO PLAY
Ambush features an exciting, brand new game mode—deploy your units into the center of the map and survive the invasion from all sides! 
No buildings are required to be destroyed in Ambush, so once you've destroyed all enemies, combat will end. Additionally, maps are fixed in place. Map rotation is possible, however panning is diabled, allowing you to focus on the battle at hand. 
At the end of a successful defense, a crate including Equipment Tech is credited. Try defeating the next map in the Tier above to earn even more Equipment Tech! 
Everyone can participate in Ambush, no matter what level you are or what side of the globe you're on. From the beginning of Tier 1 all the way to Tier 10.1, maps are available for all levels of gameplay. Similar to other events, the map tiers correspond to the minimum suggested unit tier intended for each map. Available three times a day for an hour each, there will be an opportunity to participate each day.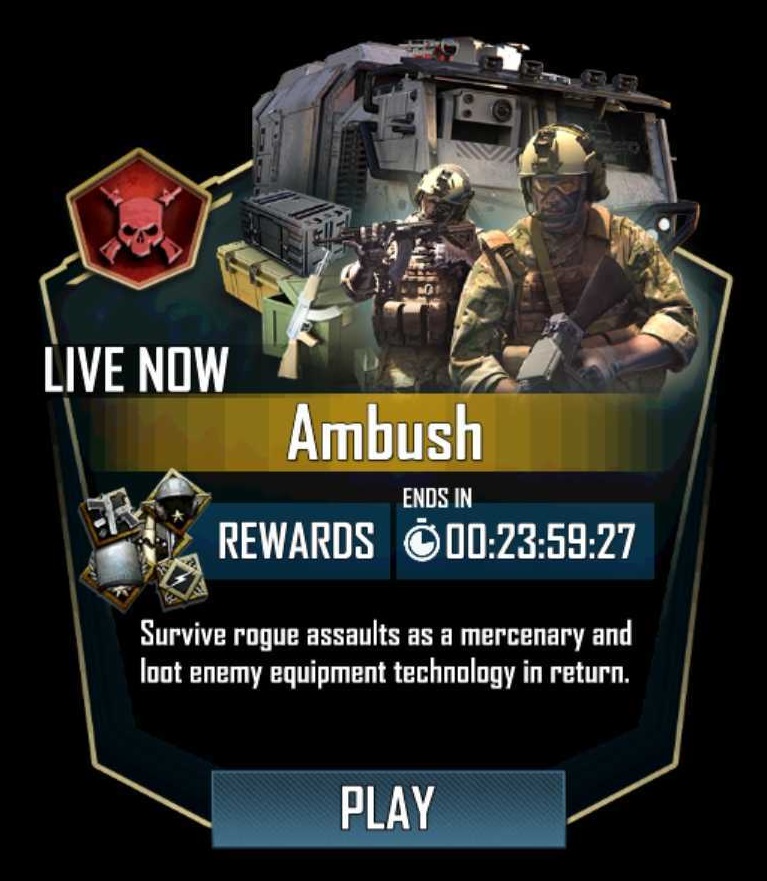 Ambush as it appears in the Event Portal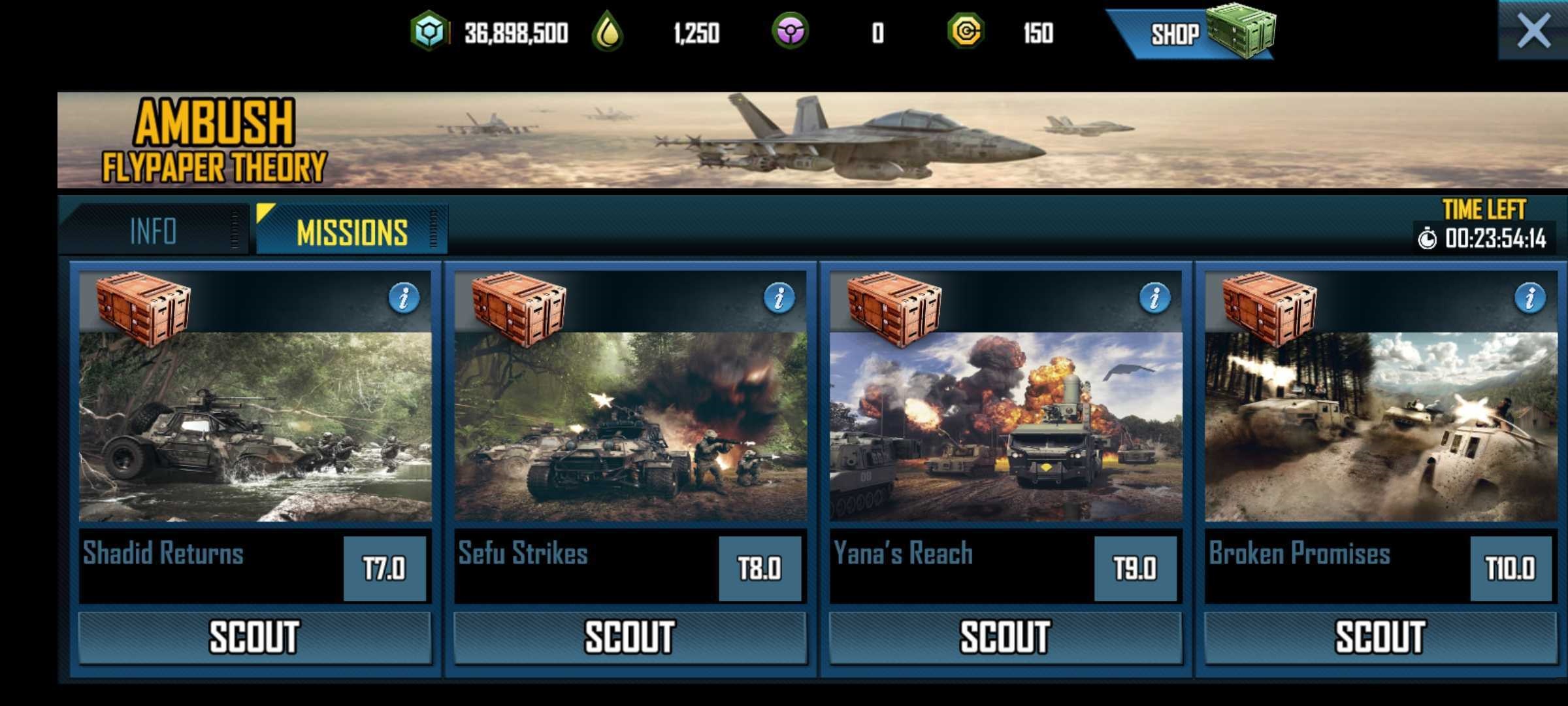 Mission selection menu
DAILY AMBUSH & BOUNTY SCHEDULE
Combat Type
Event Name
Reward Type
Event Length
Event Time 

(in PST)

Level Requirement
Ambush
Ambush
Equipment Tech
60 minutes, 3x a day
6am, 2pm, 10pm
5-85
Stronghold & Outpost

Tax Collector

Metal Production Buff

30 minutes, 3x a day

4am, 12pm, 8pm

25-85

Quickmatch PvP

Challenger Bounty

Oil Production Buff

30 minutes, 3x a day

2am, 10am, 6pm 

1-85

World Map PvP

Scavenger Bounty

Thorium Production Buff

30 minutes, 3x a day

12am, 8am, 4pm

25-85
*Please note, supercharge to double rewards is available for both Ambush and Bounty events.
---
Let us know your thoughts and join the conversation in our official discord server, https://wcra.io/Discord