6.2 Release Notes
Jan.21.2022 BY KIX_CALIBER
The 6.2 release has started rolling out to Android users and will be set as a requirement to play new content released with the target date of Thursday, January 27th, subject to change pending successful developer release to ensure a high-quality player experience.
Please be aware after downloading the update, the first load will take longer than normal.
UH-20 COPPERHEAD

Withstand enemy attacks using the UH-20 Copperhead, the support variant of the Tier 11 F.A.N.G. Helicopter. Its bulky frame boasts additional armor plating compared to the AH-20 Vyper, boosting its ability to provide cover from enemy fire to your platoon. 
Continuing the season of equipment sharing, all equipment released for Tier 11 Helicopters may be equipped on the Copperhead. Six brand new pieces of equipment will become available alongside the unit during the BOLD MARINER event on Thursday, February 3rd.
USER MENU IMPROVEMENTS

The user menu is being updated through the 6.2 release and 6.3 release. For the very first time, billing history and transaction data can be viewed directly from the user menu! Additionally, the settings menu has been reformatted and revamped, with many options from that menu moving to a new account tab. 
February's 6.3 release includes the second part of the update. A highly requested feature from the community will become available, allowing one to select which graphics settings quality is used on the device.
Please note, the billing history and item delivery section will appear after installing the 6.2 game update.
Find the full details of these improvements in the User Menu Improvements post.
NEW TIER 10 EQUIPMENT

Four new pieces of Tier 10 equipment will become available through the 6.2.1 Data Deployment, tentatively available on Thursday, January 27th pending a *successful developer release.
[RAIDER] Saboted Tungsten Rounds
Boost your Raider Helicopter FOB's anti-base capabilities using added damage against buildings and turrets. 
[QMR-KUVASZ] BlackJack R-OS
Bolster your defenses against fast moving threats with the QMR-Kuvasz's new anti-Light Vehicle crew tech, which utilizes increased damage, splash radius and range. 
[TITANUS] MOA Composite Armor
MOA Composite Armor's interlaced ceramic plates and titanium panels distribute the force of impact from incoming fire, yielding increased protection from ballistic and armor piercing rounds.
[DLP-SABRE] Hamon Incendiary Rockets
A boost to both offense and defense alike, the new Hamon Incendiary Rockets seek out enemy Light Vehicles and deliver lasting punishment with fire DOT damage.
NEW FEATURES

All new features will be available through the 6.2.1 Data Deployment (server-only), which will occur on Thursday, January 27th pending a *successful developer release.
[NEW QUICK ATTACK BUTTON] Quickly launch an attack in Contested Battle Zones directly from the War Zone.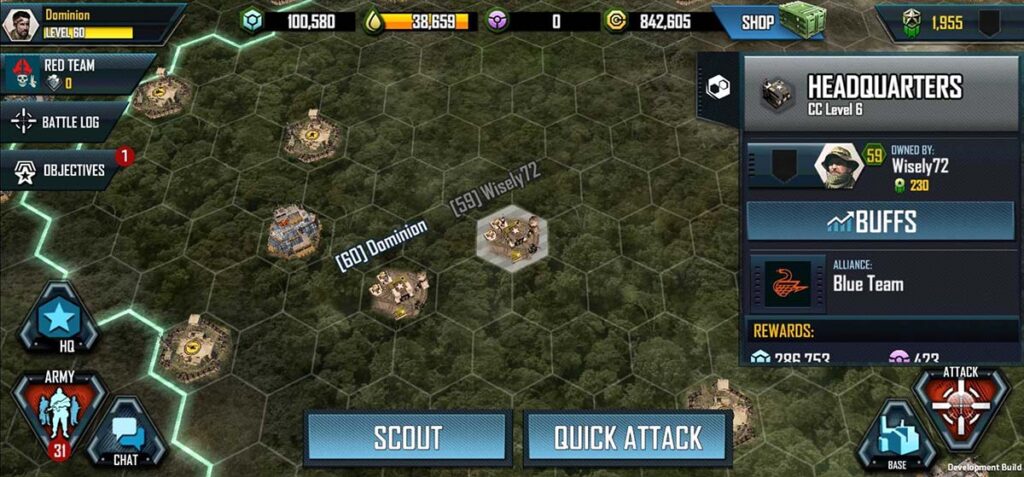 [HEAVY PLATFORM 11] Survive attacks for longer by upgrading to the Heavy Platform 11, which gains a massive health boost in this latest upgrade. Additionally, unlock the ability to upgrade the Heavy SAM to level 7 using this upgrade.
[HEAVY SAM 7] Take on the Titanus! The Heavy Sam 7 uses such a massive range that any fixed wing aircraft approaching the battlefield immediately experiences a barrage of armor-piercing missiles. 
[METAL STORAGE 15] Gain additional Metal Storage capacity in addition to an increase in health by upgrading to the Metal Factory 15.
[METAL FACTORY 15] Gain the highest resource production rates and Metal storage capacity by upgrading to the Metal Factory 15.
*We do everything we can to maintain a high quality experience. Despite our best efforts, due to unforeseen circumstances, we may need to shift release dates to meet these goals.
EVENT UPDATES

All event updates will take effect after the monthly feature event, beginning Thursday February 3rd, 2022.
[FEAST & GRIM WINTER] Titanus added to the prize store.
[SMASH & GRAB] Noctua added for level 80 and above.
[FEAST & GRIM WINTER] Titanus added for level 55 and above.
BUG FIXES

Fixed an issue where the game may restart after switching back to WCRA from another app.
Fixed an issue where canceled subscriptions may not continue to credit until the stop date.
Fixed an issue where units may pass through Barrier 15 & 16 unintentionally. 
---