Coming up in January!
Dec.23.2021 BY KIX_CALIBER
Commanders,
2021 is wrapping up and it's time to get a jump on January – check out what's coming up in the next month!
---
NEW FEATURES
AH-29 VYPER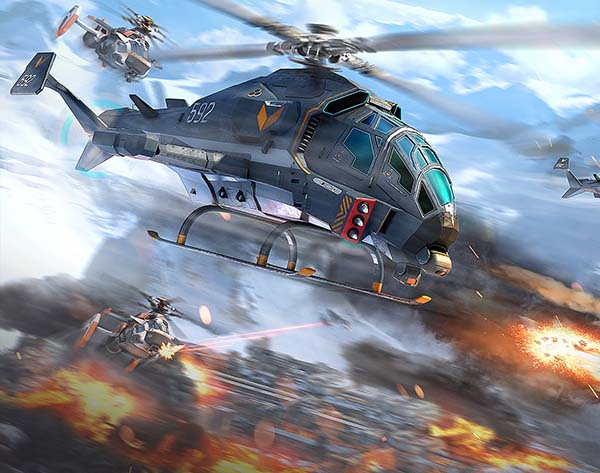 The Alpine Hunter feature event begins December 30th and this marks the start of the Tier 11 Helicopter Season. Look forward to a new challenge map, three new Helicopters, and 26 new pieces of equipment. Having a vast array of strategic equipment loadout options at your fingertips, you have the choice this season of how to best utilize each Helicopter in a role that fits your playstyle. 
Collectively named FANG Helicopters, the core stats for all three units will be shared, however each will be distinguished by one major stat augment. The AH-29 Vyper leads the lineup, utilizing increased DPS as the attack variant of the FANG Helicopters.
Fifteen pieces of equipment will be available upon the Vyper's release, followed by additional pieces in the following two monthly feature events. The equipment released throughout the season are intended to be at the same power level as previously-released pieces of equipment, however the different functionality and stat boosts they provide will open up new opportunities for strategic gameplay in combat.
TECHNICAL IMPROVEMENTS
This release is packed with performance improvements, including a highly requested graphic settings menu, purchasing troubleshooting tool, and performance improvements which span across the entire game.
NEW GRAPHIC QUALITY SETTING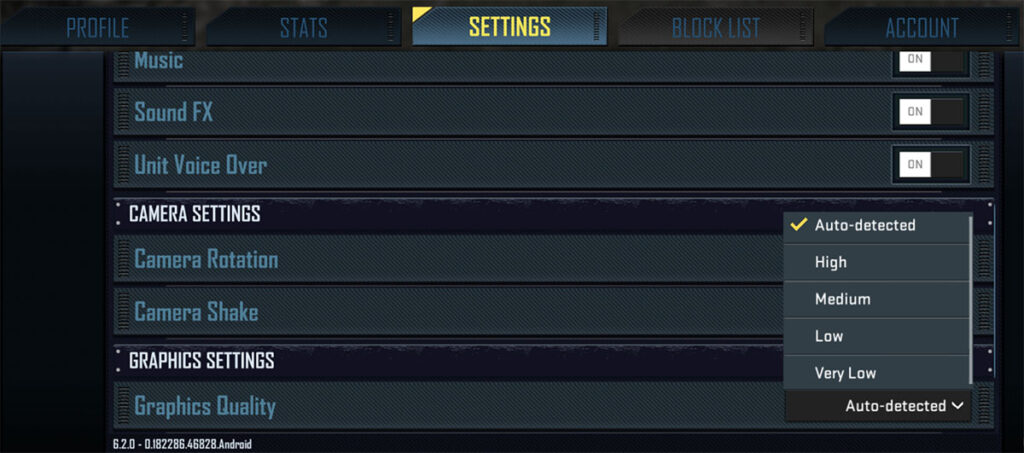 A highly requested feature will be available after downloading and installing the 6.2 game update. A new dropdown menu will be available in the user profile settings menu which provides a method to select which graphics quality setting to be used while playing. A recommended setting will still be available as your device will be automatically detected, however.
NEW SELF-SERVE PURCHASE TROUBLESHOOTING TOOL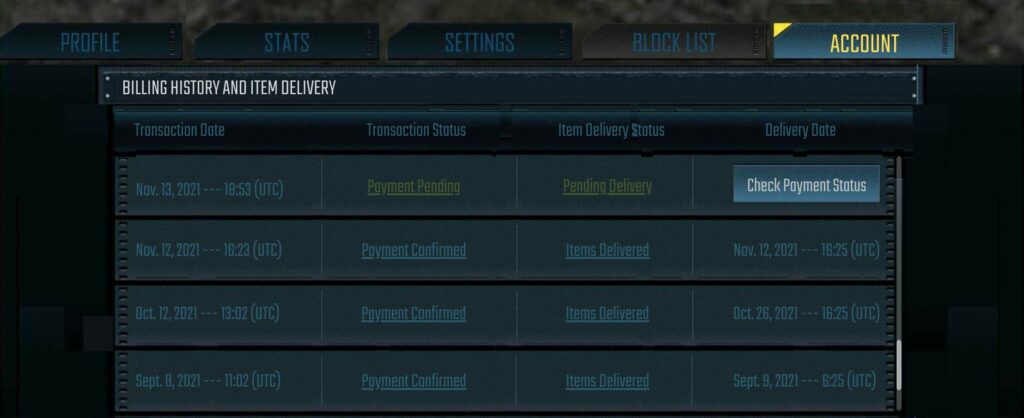 A new purchase troubleshooting tool is in development that assists in cases where purchases may not be completed for whatever reason. 
For each purchase, Apple and Google provide a status to us, which will now be available directly in your user profile menu. For purchases that are not cleared immediately, this menu provides visibility into content delivered at a later date. Additionally, it provides a method to deliver any stuck purchases and also display the delivered items for each purchase.
PERFORMANCE IMPROVEMENTS
Improvements across key areas will be performed in this release and future releases, from implementing additional tooling for engineers' investigation to tackling the top sources of game crashes. One area already planned for investigation are the loading times for the War Zone.
6.2.1 DATA DEPLOYMENT
All new features below will be available as part of the 6.2.1 Data Deployment, which will occur on Thursday, January 27th pending a successful developer release. Data Deployments are a type of server update that does not require you to download an update. 
DEFENSE UPDATE

HEAVY PLATFORM 11
Survive attacks for longer by upgrading to the Heavy Platform 11, which gains a massive health boost in this latest upgrade. Additionally, unlock the ability to upgrade the Heavy SAM to level 7 using this upgrade.
HEAVY SAM 7
Take on the Titanus! The Heavy Sam 7 uses such a massive range that any fixed wing aircraft approaching the battlefield immediately experiences a barrage of armor-piercing missiles. 
METAL FACTORY 15 & METAL STORAGE 15
Gain the highest resource payouts and storage by upgrading to the latest Metal Factory and Metal Storage, respectively.
NEW EQUIPMENT

Four pieces of new equipment for Tier 10 units will be released in the 6.2.1 Data Deployment, tentatively arriving on Thursday, January 27th pending a successful developer release.
[RAIDER] Saboted Tungsten Rounds
Boost your Heli FOB's anti-base capabilities with added damage against buildings and turrets for the Raider. 
[QMR-KUVASZ] BlackJack R-OS
Bolster your defences against fast moving threats with the QMR-Kuvasz's new anti-Light Vehicle crew tech, featuring increased damage, splash radius and range. 
[TITANUS] MOA Composite Armor
MOA Composite Armor's interlaced ceramic plates and titanium panels distribute the force of impact from incoming fire, providing the Titanus with increased protection from ballistic and armor piercing rounds.
[DLP-SABRE] HAMON INCENDIARY ROCKETS
A boost to offense and defense alike, the new Hamon Incendiary Rockets seek out enemy Light Vehicles and deliver lasting punishment with fire DOT damage.
---
Thank you for playing War Commander: Rogue Assault! Let us know your thoughts by joining in the conversation on Discord at https://wcra.io/discord.