UPCOMING NEW DOMINION BATTLE FEED!
Nov.30.2021 BY KIX_CALIBER
Instantly find where your next fight is using the Battle Feed. The Battle Feed arrives in the December update which is tentatively scheduled for Thursday, December 23rd.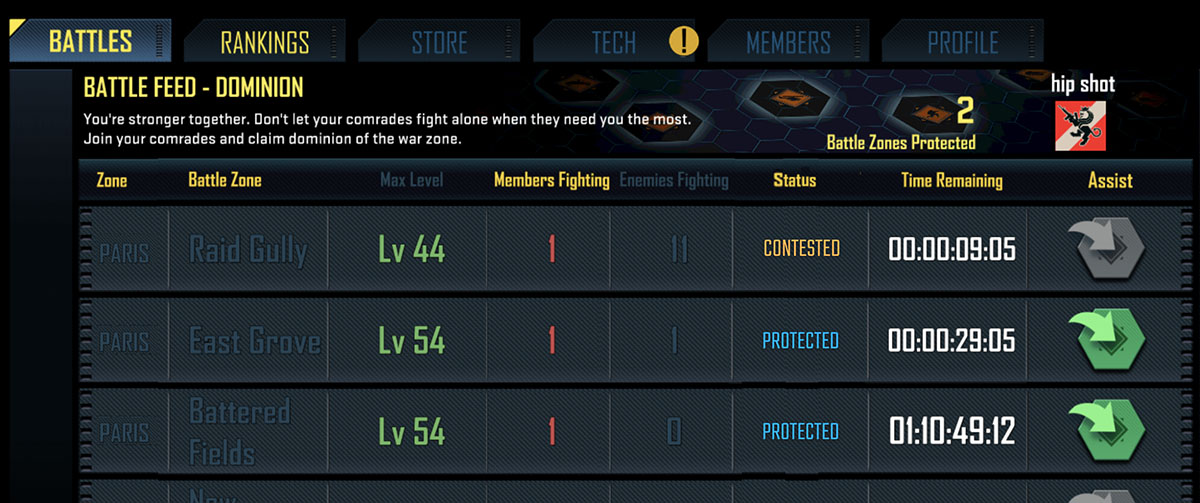 Easily coordinate with your alliance where to be and which fights are worth fighting using the location, number of enemies in the zone, number of teammates currently fighting, and the remaining time for each contested and protected battle zone your alliance is in.
Jump straight to the map using the hassle-free assist button to quickly help your teammates without the fuss of chat coordinates and typing confusing descriptions in chat.

Find the corresponding information in the screenshot above:
The amount of protected Battle Zones your alliance currently holds.
The name of the Zone.
The name of the Battle Zone.
Maximum level for the Battle Zone.
The amount of Alliance Members fighting for that Battle Zone.
The amount of enemies fighting in the Battle Zone.
Current phase of the Battle Zone
Time remaining for the current phase.
Assist button: tap this to deploy into the Battle Zone.
---
The Battle Feed tentatively arrives on Thursday, December 23rd. Let us know your thoughts in our official Discord server at https://wcra.io/Discord !